Tampopo restaurants are serving an inspired cuisine from Thailand, Vietnam, Malaysia, Indonesia and Japan in Manchester
Our menu is made up of the best pan-Asian street food and signature dishes from across East Asia, with a fantastic variety of flavours and textures that we found in the various cuisines of the countries that we visited and fell in love with.
Choose from light snacks washed down with authentic Asian beers, Asian influenced cocktails, refreshing wines and soft drinks.
Our selection of small plates, salads and greens – some of East Asia's favourite street snacks – can be shared with friends or enjoyed on your own.
If you're vegetarian or vegan, look for the dishes marked
and
.
Spicy food is marked with
and goes up to
!
Albert Square
Tampopo Albert Square

view location
16 Albert Square, Manchester M2 5PF
Less than 5 minutes walk from Deansgate and Spinningfields. The closest tram is St Peter Square, or we are 10 minutes from Deansgate Castlefield. Metered parking is available on the surrounding streets.
Place an order
Chorlton
Tampopo Click & Collect
view location
Broughton Park F.C. (Rugby Union)
2 Houghend Cres, Manchester M21 7TL
Our team in Chorlton (Broughton Park) are still busy in the kitchen and are open from Wednesday right through to Sunday!
Chorlton Opening Times
Wednesday, Thursday & Friday 4.30-9pm
Saturday & Sunday 1-9pm
Place an order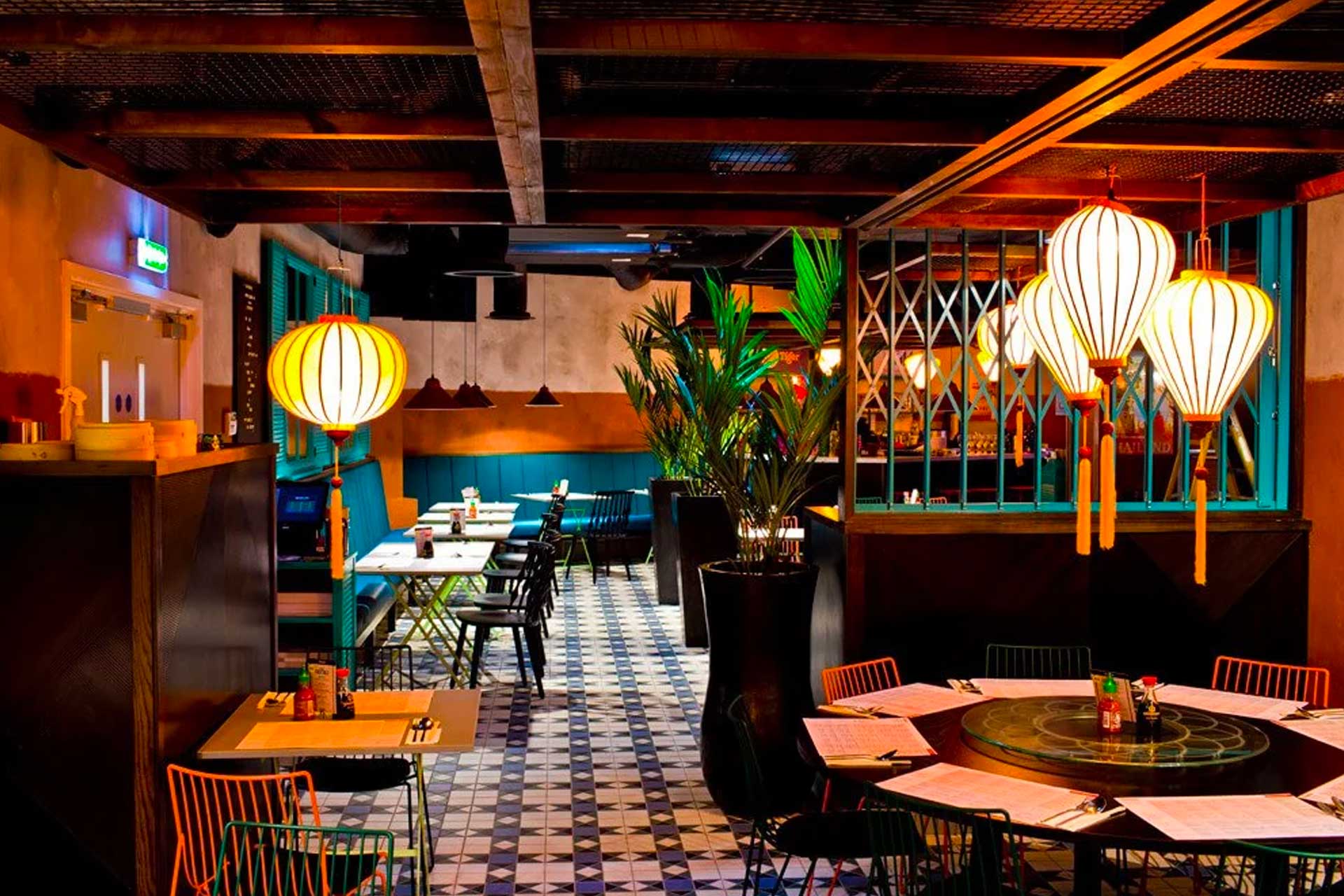 Corn Exchange
Tampopo Corn Exchange
view location
Corn Exchange, Exchange Square, Manchester M4 3TR
Right in the heart of Manchester's shopping district, close to Manchester Arena and the Northern Quarter. A popular choice with shoppers and concertgoers looking to grab a bite, or pull up a stool at the bar if you just fancy a drink. Seats 105 and only 2 minutes from the cinema.
Piccadilly Gardens
Tampopo Piccadilly Gardens
view location
Unit 1A, The Pavillion, 1B Parker St, Piccadilly, Manchester M1 1RG
You'll find our new Tampopo restaurant in Manchester's Piccadilly Gardens! Drop-in and join us for some of our authentic East Asian cuisines: from sizzling stir-fries to aromatic curries.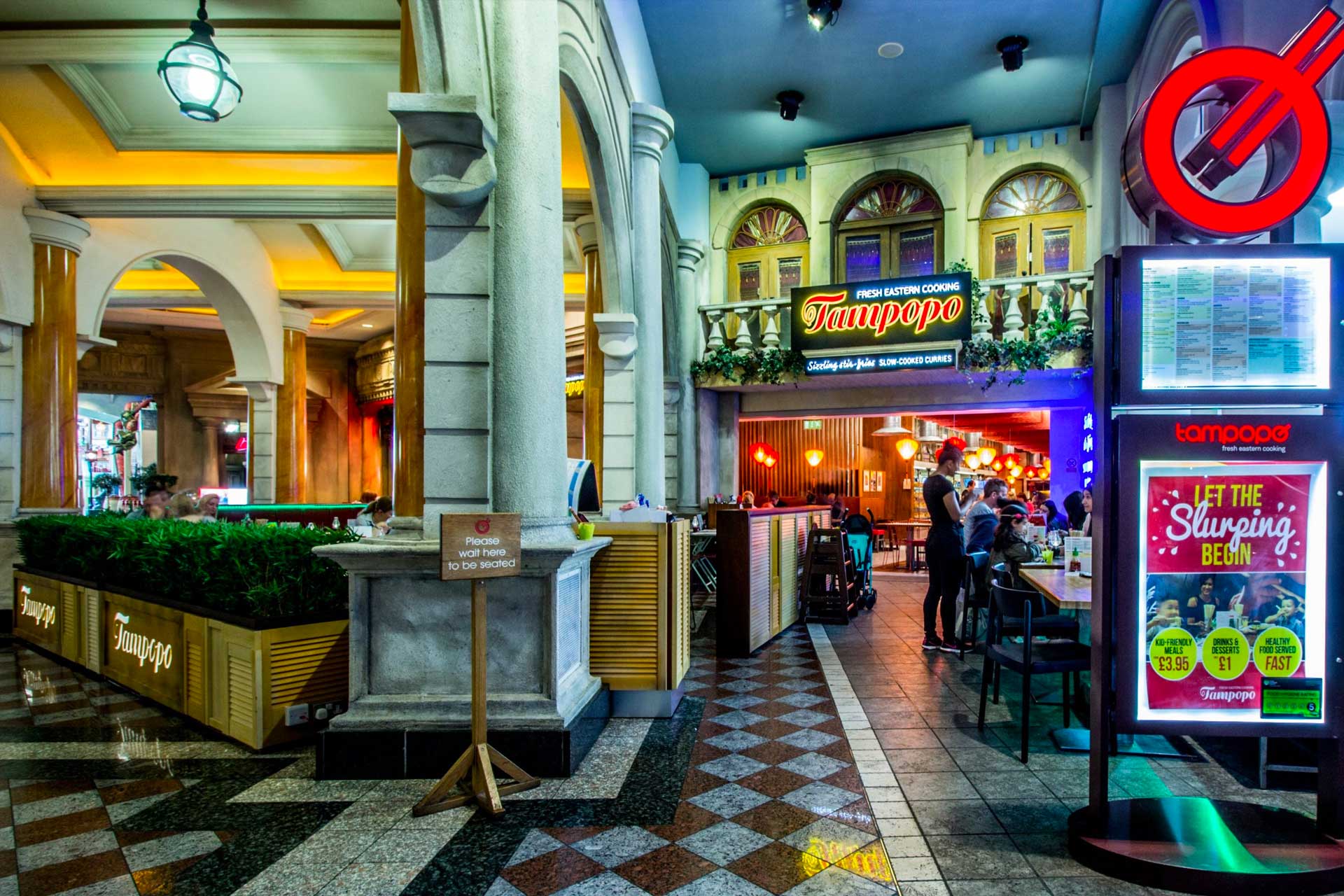 Trafford Centre
Tampopo Trafford Centre

view location
The Orient, Trafford Centre, Stretford, Manchester M17 8EH
With 180 seats, it's a firm favourite of the Trafford Centre. Our outside seating within the Orient's upper food hall eats gives you a chance to gaze on the busy shoppers, or get away from it all and dine inside watching our chefs work away. Great for refuelling during shopping trips, family teas or cinema eats.
Place an order
East Street
East Street Restaurant
view location
3-5 Rathbone Place, London W1T 1HJ
Finding us: Just a 1-minute walk from Oxford Street. 3 minutes south of Charlotte Street and 3 minutes north of Soho Square.
Tottenham Court Road Tube is 3 minutes away. On-street parking is available right outside, or 2 Boris Bike stations are less than 5 minutes walk too (on Soho Square and Charlotte Street).
Place an order
East Street Kiosk
East Street Kiosk

view location
The Orient, Trafford Centre, Stretford, Manchester M17 8EH
The Trafford Centre is situated just outside of Manchester City Centre, in Trafford. It is a 3-storey shopping centre that plays home to an array of activities for everyone.
Place an order
Our name 'Tampopo' (a Japanese girl's name meaning 'dandelion') is also the title of a Japanese film, which chronicles a woman's search for the perfect bowl of noodles; a quest we recreate at Tampopo today.
We've travelled all over East Asia to bring back our favourite dishes for you to enjoy. So sit and savour the aromas and flavours from the bustling street markets of Bangkok, the hawker stalls of Singapore and the noodle vendors of Tokyo.
Love East Asian food? Fancy eating out for less? Then why not become a member of our Tampopo Club?
We're a small but growing family and we'd love you to join us.
As a member, every month you'll receive an email letting you know about:
exclusive offers for members, and goodies
promotional menus
events at our restaurants
East Asia – cooking tips and must-visit locations for travellers
To be a part of the club, simply fill out the following form ⇢ ⇢ ⇢